Winter is a great time to test out soups! Everyone is eager to warm up with a hearty, nutritious 'meal' in a bowl. This soup is loaded with so many wonderful veggies, chicken and spices, you will really love it. This soup is mild, too - so the youngest family members will love it, too.
I have adapted a recipe I found on the Stop and Shop website.
Ingredients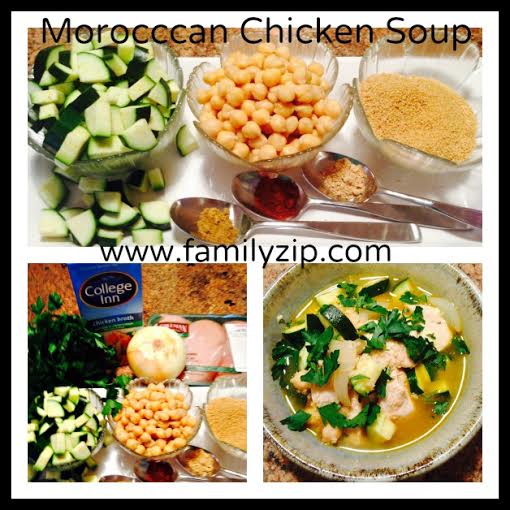 3 Tablespoons olive oil
1 lb boneless, skinless chicken breast
1 1/4 cups chopped onion
1/2 Tablespoon ground cumin
1/2 Tablespoon ground ginger
1 teaspoon hot paprika
4 cups chicken broth
2 cups chopped zucchini (1/4-inch pieces)
1/2 cup dry couscous
1 can chickpeas (garbanzo beans), drained and rinsed
1/4 cup chopped cilantro or parsley
Ground black pepper to taste
Preparation
Put oil in a deep, heavy skillet over medium heat.
Cut chicken into bite-size pieces.
Add to skillet and stir. Cook until browned.
Add onion, cumin, ginger, and paprika to the skillet. Stir and cook for 1 minute.
Add broth to skillet and stir - make sure you get all the bits off the bottom of pot.
Cover and bring to a boil.
Add zucchini, couscous and chickpeas to skillet; stir and cover.
Return to a boil, then lower the heat and allow to simmer for 5 minutes.
Add cilantro or parsley and season with pepper to taste.
Cook for 1 minute, ans serve in soup bowls.