Museum of Fine Arts Boston (MFA)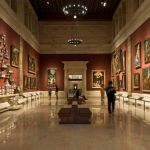 Activity Overview
The Museum of Fine Arts (MFA) is an elegant and impressive space filled with captivating masterpieces from around the world. The museum offers several hands-on art and drop-in programs for families and children.
The MFA is one of the most comprehensive art museums in the world; the collection encompasses nearly 450,000 works of art. The museum welcomes more than one million visitors each year to experience art from ancient Egyptian to contemporary, special exhibitions, and innovative educational programs.
Things to See & Do
2010 marked the opening of the Art of the Americas Wing, with four levels of American art from ancient to modern. In 2011, the west wing of the Museum was transformed into the Linde Family Wing for Contemporary Art, with new galleries for contemporary art and social and learning spaces. Improved and new galleries for European, Asian, and African art were opened in 2013, with more to come.
The New MFA wing showcases more than 5,000 works of art produced in North, Central, and South America over the course of three millennia. The art in all media forms is arranged chronologically on four floors.
Floor LG - Ancient American; Native American 17th Century and Maritime ArtFloor 1 - 18th Century Art of the Americas; Early 19th Century ArtFloor 2 - 19th Century and early 20th Century ArtFloor 3 - 20th Century Art thru the mid-1970's
Many of the wing's 53 galleries are dedicated to individual artists or artistic movements, including pre-Columbian arts, Maya ceramics, Native North American art, African-American artists, the colonial portraiture of John Singleton Copley and Gilbert Stuart, the silverware of Paul Revere, the Hudson River School of landscape painting, folk art, photography, and works by John Singer Sargent.[7] Sargent's The Daughters of Edward Darley Boit is symmetrically flanked by the pair of tall ceramic vases which are depicted in the painting.
Museum of Fine Arts Boston Insider Tips
This museum is quite family friendly, with changing tables in most ladies rooms and a nursing room just outside the Lane Gallery of 20th Century Art. Most of the museum is relatively child proof, with most exhibits in protective casings or well out of reach of little hands.
The MFA offers two free coat check rooms located at the Huntington and State Street Corporation Fenway entrances. All parcels, umbrellas, and bags larger than 11" x 15" must be checked, including backpack-style child carriers.
Maps & Visitor Guides are available in German, Italian, French, Spanish, Russian, Chinese, and Japanese.
The Boston MFA is closed on New Year's Day, Patriot's Day, Independence Day, Thanksgiving, and Christmas.

Reviews
Sign Up - Family Fun Newsletter
Have fun with great ideas on things to do for travel, daytrips, nearby, or at home...