National Portrait Gallery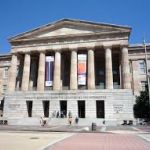 Activity Overview
The National Portrait Gallery is a museum in Washington, D.C. that showcases historic artwork belonging to the Smithsonian Institution. It is the only art museum in the United States with a collection that solely contains portraits.
Spending a day at the National Portrait Gallery will allow your family to view fascinating portraits of many famous Americans including presidents, entertainers, and artists as you learn about their importance to American history.
Things to Do
Visit the "America's Presidents" exhibition, which features the only complete collection of presidential portraits in a U.S. museum. It features portraits of all kinds, including sculptures, caricatures, paintings, and photographs, including Lansdowne, a famous painting of George Washington.
Learn about American history while visiting the "American Origins, 1600-1900" exhibition. It includes over a dozen galleries of historical artwork depicting famous figures like Pocahontas, Nathaniel Hawthorne, and Harriet Beecher Stowe.
Search the galleries for portraits of your child's favorite historical figures, such as Rosa Parks, Marilyn Monroe, Babe Ruth, George Gershwin, Charlie Chaplin, Benjamin Franklin, and Martha Washington.
National Portrait Gallery Insider Tips
Join your little ones as they become Young Portrait Explorers! Children up to the age of five can join this exciting class to learn about art and history as they view portraits, listen to stories, and do fun activities. Learn more here.
Check the official website's Events page to see when the next Family Day program will take place. Family Days are filled with activities suitable for children of all ages, including a gallery scavenger hunt, story time, making arts and crafts, and music and dance performances. Best of all, Family Days are free!
One of the easiest ways to get to the museum is by taking the metro to the Gallery Place-Chinatown Metrorail station on the Green, Yellow, and Red lines and exiting from the Arena exit at 7th and F Streets. If you're driving, you should be able to find parking in one of the lots located near the museum.

Reviews
Sign Up - Family Fun Newsletter
Have fun with great ideas on things to do for travel, daytrips, nearby, or at home...