Natural History Museum of Los Angeles County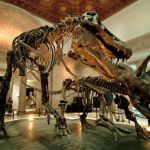 Activity Overview
The natural history museum of Los Angeles County is a historic museum that was opened to public in 1913. It is the largest natural history museum in the western United States, the extensive natural history collections include more than 35 million specimens and artifacts, and some of these specimen are 4.5 billion years old that is almost the age of the planet Earth. The museum showcases many interesting natural history and science related exhibitions that invoke curiosity and understanding for the nature in both adults and children.
Things to Do
Families can visit the museum and take special guided tours, guided tours help you explore the galleries and discuss various natural history topics. Self-guided tours with the help of museum maps are also recommended.
Children would be delighted to see different natural history exhibits, permanent exhibits include Age of Mammals, Dinosaur Hall, Birds, California history, gems and minerals, insect zoo, nature gardens and Becoming L.A. The dinosaur hall is one of the largest in the world with more than 300 real fossils.
Special exhibits include Butterfly pavilion, spider pavilion, Dino lab and many more. There are special cultural exhibits such as, The Grandes Maestros that features artifacts from 22 different countries. The cultural exhibition will also feature many hands-on activities for the whole family, music and food workshops.
Many interesting and informative activities are offered at the museum, such as, dinosaur encounters, ice age encounters, nature walk, nature lab, meeting a live animal, butterflies and spiders, and much more.
The critter's club hosts many activities for the 3 to 5 years old kids, art making, story time, live animal encounters and many more activities are offered in the Critter's club activity. Junior scientist is an activity geared towards 6 to 9 year-old kids and their families.
Enjoy some snacks at the NHM grill that offers sandwiches, burgers, salads, and much more. If you want to bring your own food, you can have a picnic in the gardens in front of the museum.
The museum store offers a unique collection of books, postcards, jewelry and home decor items.
Natural History Museum of Los Angeles County Insider Tips
The museum is stroller and wheelchair accessible.
Museum members enjoy free entry and other discounts.

Reviews
Sign Up - Family Fun Newsletter
Have fun with great ideas on things to do for travel, daytrips, nearby, or at home...