Ohio Expo Center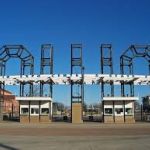 Activity Overview
The Ohio Expo Center is an event venue located in Columbus, Ohio. It is primarily known as the home of the annual Ohio State Fair, which has taken place on its grounds since 1886. However, the 360-acre venue is also used for over 150 other events each year, including garden shows, sporting events, consumer shows, banquets, conferences, and markets. The event complex consists of 20 different buildings, including historic pavilions, a basketball court, an ice rink, livestock facilities, and a 10,000-seat arena. If you're looking for unique family-friendly events to attend while in Columbus, the Ohio Expo Center is a great venue to start your search.
Things to Do
Go to the Ohio State Fair, one of the largest state fairs in the United States. It is held each year in late July and early August, and features a seemingly endless list of attractions, including exhibits, petting zoos, rides, pageants, food contests, live musical performances, parades, pig races, and pony rides.
Check the venue's Upcoming Events page to find out what exciting events you can attend - there's something for everyone, including go-kart racing, antique markets, basketball tournaments, and unique events like the U.S. Alpaca Show.
Don't miss out on all of the great educational opportunities provided by the state fair - visitors of all ages can learn about agriculture, animals, art, history, and science during their fun-filled visit!
Ohio Expo Center Insider Tips
If you plan to visit the Ohio State Fair, check out their Discounts & Promotions page to learn about the different money-saving deals that are available each day.
While the state fair has many paid attractions, there's plenty you can do for free! You can learn more about free entertainment and free live music at the fair on their website.
Go camping! The Ohio Expo Center has two different campgrounds, with amenities that include water, electricity, and a dump station.

Reviews
Sign Up - Family Fun Newsletter
Have fun with great ideas on things to do for travel, daytrips, nearby, or at home...