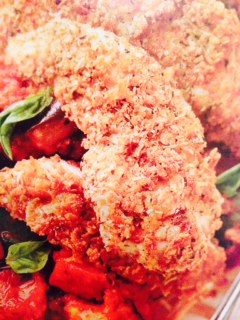 One of our favorite chicken meals is this proven recipe I found in the magazine; Diabetes Meals Made Easy! I have adapted their recipe in several different ways, but this one is perfect and so easy to make. I like to make a bunch ahead of time and my girls enjoy bringing this to school for lunch. One thing is that this is really a great recipe if you are watching your weight, but want a crunchy texture like a deep fried, unhealthy version. Enjoy!
Ingredients
Nonstick cooking spray
1/4 cup egg whites, lightly beaten
2 tablespoons water
1/2 clove minced garlic
1 cup bran cereal flakes, crushed up (or we use bread crumbs)
1/4 cup grated Parmesan cheese
1 teaspoon dried Italian seasoning
1.5 pounds chicken breast tenderloins
Preparation
Preheat oven to 425 degrees.
Line a 15x10x1-inch pan with foil; lightly coat foil with cooking spray. Set aside.
In a dish combine the egg, water, and garlic. In another dish mix the crushed bran flakes (bread crumbs), Parmesan, and Italian seasoning.
Dip chicken pieces, one at a time, in a egg mixture, turning to coat evenly and allowing excess to drip off. Dip pieces in cereal mixture, turning to coat. Place pieces in a single layer in the pan.
Coat tops of pieces with cooking spray. I like to add a bit more Parmesan at this stage!
Bake for 15 to 20 minutes or until chicken is no longer pink (170 degrees).
We like to serve this up with a bit of whole wheat pasta. You will be going back to this recipe over and over again, guaranteed!