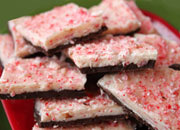 One of my favorite candy recipes is Peppermint Bark. It's so easy, yummy and fun to make.
I love making a bunch of candy for teacher gifts during the holidays. All you have to do is buy some pretty tins to put your peppermint bark in finish it off with a decorative bow - the perfect gift!
Ingredients
4 (3.5-oz) bars of milk chocolate
1 (12-oz.) package of white chocolate morsels
1/2 cup crushed peppermint candies (we like crushing candy canes in a plastic bag and crushing it gently with a mallet)
Preparation
Microwave the milk chocolate. I like to heat in intervals as to not burn the chocolate. Stir until smooth. Spread the chocolate over waxed-paper-lined baking sheet. Chill in the refrigerator until firm.
Melt the white chocolate morsels using the same directions as the milk chocolate. Spread this evenly over the milk chocolate.
Sprinkle the crushed peppermint candies on top. Chill until firm.
Fun Part! Break into small pieces. Store in an airtight between wax paper in a refrigerator up to 2 weeks. Perfect for gift giving!