LEGO® Brick sets are expensive!
Pleygo is an innovative and cost effective, Netflix-like rental service for LEGO® sets. You can order unlimited sets and there's no charge for lost pieces.
The sets come to your home, clean and sanitized. Free Shipping is a big bonus here, too!
How it works
Select the plan that fit your kid's needs.
Create the queue of the sets you want to get.
Get a set, play and enjoy it! Return in the pre-paid box.
1. Pick a Plan
Pleygo has 3 plans to fit your needs. With all membership plans you receive unlimited exchanges per month, one set at a time. You may return the set at any time.
Membership Plans:
Fan: $15/month, you can play with small to medium sets up to 250 pieces.
Super Fan: $25/month, you can play with larger sets up to 500 pieces.
Mega Fan: $39/month, you can play with all sets up to 5400 pieces.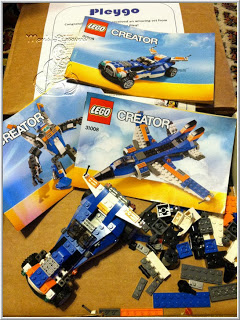 2. Create Your Wish List!
Select the LEGO® sets you want to build from Pleygo's inventory. The collection of sets is constantly being updated with the latest LEGO releases. You will be sent sets according to the order they appear on your Wishlist. We love that!
3. Play, and Return
You will receive your set in the Pleygo box with an instructions and a spare pieces bag. All of it comes clean and sanitized. Once your child has completed playing with the set, just place all the pieces in the provided ziplock bag, place it in the box and drop it in any US postal mail box.
Shipping is FREE with any of the memberships. Once the set is received, they will mail you the next set on your wishlist.
Recycle your Old Bricks
Have your kids "grow out" of their favorite Lego sets or mix sets?
Pleygo helps you reduce clutter and provides you with $5 credit per pound towards your Pleygo plan so you can get newer sets which your kids can enjoy.