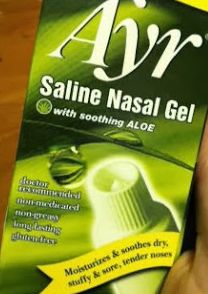 Cold weather is here and the heat is on. Our wood stove is cranking and they notoriously dry out your home and it wreaks havoc on everyone's sinuses and tender noses.
Last winter, I discovered Ayr Saline Nasal Gel with soothing Aloe after talking to our pediatrician. I was complaining about our kids colds, and winter nose bleeds. We have a humidifier going throughout the winter, but we needed more help.
Our doctor didn't hesitate to recommended Ayr, and we noticed an immediate improvement after a few uses.
Ayr helps to moisturize and soothe dry noses due to:
Colds
Allergies
Winter dryness
Mouth breathing
Low humidity
Chronic sinusitis
Flying
Here are a few of the reasons we love it
Ayr doesn't go on sticky.
No real 'smell' or fragrance to it.
Ayr isn't medicated.
My kids will tell you, "It doesn't sting" - even on the driest of noses.
It works, and worth a try if you are experiencing uncomfortable dryness.
Have some on hand, cold season is upon us and Ayr provides great relief for dry, stuffy and sore noses.