The Art Institute of Chicago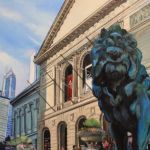 Activity Overview
This Gallery was the winner of the Travelers Choice 2013 Best Museum in the United States. This is a great destination for all art lovers of all ages. Whether you are a novice to the art world or a avid art collectors this gallery had enough variety to keep everyone enthralled and entertained.
Things to Do
Enjoy a wide variety of artists including: The Modern Masters, Nairy Baghramian French Curve/ slip of tongue, Dayanita Singh, The Thrill of the Chase, When the Greeks Ruled Egypt and Chicagoisms.
There is also on display arms and armor of the Medieval and Renaissance and textiles.
The Museum has a collection of impressionists and post-impressionist on permanent display as well as American Art and the Old Masters, European and American decorative arts, Asian art, modern and contemporary art.
Art Institute of Chicago Insider Tips
Free Thursday evenings for all Illinois Residents from 5-8pm.
The museum is closed only three days a year: Thanksgiving, Christmas, and New Year's Day. It is open on all other holidays.
Parking - The Art Institute offers valet parking for about $25 per car at the Modern Wing entrance during museum hours. Many underground lots are also only a block away. Members at the Member Plus and above levels receive a discount on parking.
Plan ahead as the following items cannotbe brought into the galleries: Art materials other than pencil (including ink pens), Backpacks and backpack baby carriers, Bags, camera bags, or purses larger than 13 x17 inches, Shopping bags, Flowers or balloons, Food or drink, Toys, Tripods, flash attachments, and video cameras, Umbrellas (small umbrellas can be stowed in bags), Wrapped packages (gifts)

Reviews
Sign Up - Family Fun Newsletter
Have fun with great ideas on things to do for travel, daytrips, nearby, or at home...