Recycling your toilet paper and paper towel rolls just got cool!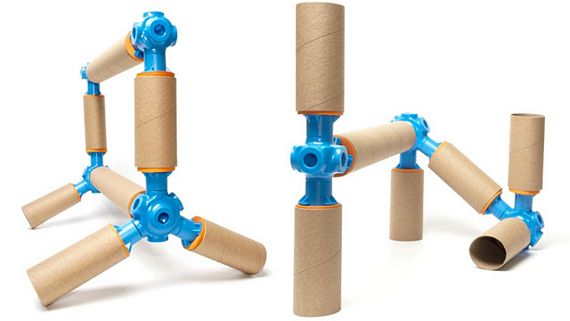 The creators of Toobalink designed their toy specifically to be used with your recycled tubes.
A Cool Toy for Modern Times
Toobalink is an assortment of designed connectors and adaptors to incorporate your recycled paper towel and toilet paper tubes for kids ages 5 and up, demonstrated in this YouTube Video.
Using connectors, joiners and couplers and your tubes, you can design things to work with other toys in your home or just have fun with what you can create on your own, like a sword.
Inside the starter kit:
4 joiners
3 long cardboard tubes
6 short cardboard tubes
12 tube connectors
4 eight-way connectors
4 six-way connectors
6 couplers
Also included are foam, styrene and recycled cardboard to get you started.
With the Toobalink Starter Kit, your kids will be begging for more connector tubes from the recycling bin. A great motivator to use and re-use, while learning, creating and having fun.