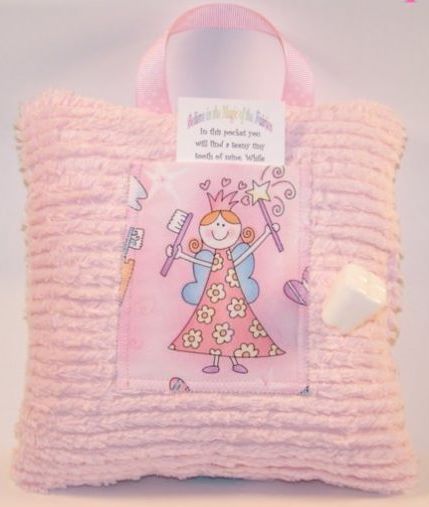 Do you wish the Tooth Fairy truly existed for us parents to depend on?
Are you often stumbling in the dark, trying to find the treasured tooth under your child's pillow in the middle of the night?
It's almost covert affairs trying to do this blind, fast and without a noise!
Tooth Fairy Pillow is Born
The process of losing a tooth is significant to children. Young children are so proud of their lost teeth and adore the special token they receive for calmly giving it up, well - some kids do!
The tooth fairy couldn't have come up with a better idea than designer, Becky Enslow Ingersoll and her Tooth Fairy Pillow. Becky is the owner of Creative Mind Boutique and has been hand-crafting wonderful items for young children for years.
The Tooth Fairy Pillow is her claim to fame.
About the Pillow
The pillow measures 8 inches long and wide. Its designed with a small pocket on the front that holds a tiny tooth box to insert your child's teeny tooth into. The lost tooth is safely placed in the pocket for safekeeping until the tooth fairy arrives and places her token in it's place. This makes the process easy for everyone!
The pillow also has a convenient ribbon handle, to hang off a bedpost for extra safe keeping and to store away on a closet door knob until the next tooth begins to wiggle.
This item will surely delight the children in your life, truly a gift that keeps on giving.