Activity Overview
A pack of cards is easy to take with you and provides the perfect outlet to bust boredom. Mix things up by playing something new this time around. School age children will love this card game.
The object of Trash Can Card Game is to be the first person to fill in Ace through 8. In this game, Aces are considered low and a number one in the order of the cards. Cards need to be set up in consecutive order, in the spaces of the face down cards in front of you. You accomplish this by drawing cards or using opponents discarded cards.
Materials Needed
How to Play
Deal 8 cards to each player, laying them out in two rows of 4 cards that are all face down.
Place the remaining cards face down in a draw pile where everyone can reach them.
Think of your cards as numbered in consecutive spots of 1 through 8.
The first player draws a card from the deck of remaining cards.
If this player draws 1-8, he flips the card face up and replaces one of his own cards in the corresponding number position in front of him.
If he draws a card that cannot be used, he puts it in the the discard pile right next to the draw pile. His turn is now over.
Players will draw one card on each turn whether it is from the draw pile or the discard pile. Each player hopes to draw is cards numbered Ace through 8 so he can fill in the appropriate spots face up in his set of cards in front of him.
If a player draws a King, it is considered Wild and they can place it anywhere they would like to. When they place the King, they reveal what card they are replacing and use it if they can. If it is unusable, then the card is discarded.
The first person to successfully get all of the cards lined up 1 through 8 is deemed the winner.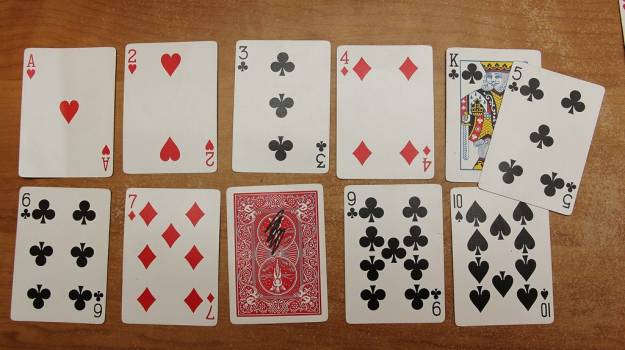 Looking for other cool card games? You can also find lots of other fun family games to play and things to do with kids here.