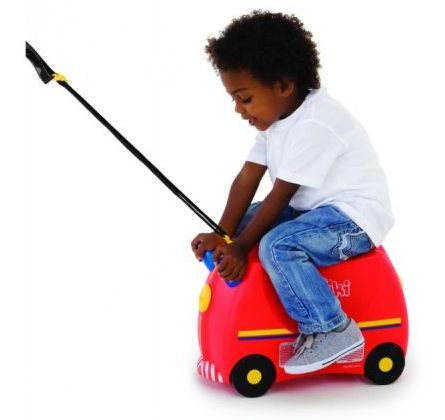 Traveling with children is a lot easier when you have a Trunki along for the trip!
The Trunki suitcase is a colorful and whimsical rolling suitcase for children that doubles as a ride-on toy when they get tired! A must-have for traveling with children ages 3-6.
This child-size, carry on-approved, suitcase is perfect for the little traveler!
It's a perfect option for hectic airport settings, where families are navigating between gates quickly and sometime just need to get to their next destination quickly.
Parents are able to:
Pull their child on it while child is sitting on the Trunki.
Child can pull it.
OR, child can ride and push it like a ride-on toy.
This Trunki suitcase helps keep up the pace and makes the journey of travel fun.
Special Features
Made of sturdy plastic.
Pull strap for kids and adults to use to pull the ride-on suitcase.
Easy and lightweight for small children to maneuver.
Design is colorful and adorable!
Ability to ride on the suitcase when the child gets tired.
Integrated seat, with leg rests and grip horns to hold on to.
Inside straps hold everything in place.
Easy to operate sliding locks to keep Trunki secure.
The Trunki has been on the market for some time. The mini-suitcase is not recommended to be checked as baggage, but is perfect to bring on board the plane to access your child's important items for a flight.
Seeing the Trunki at the airport is always an enjoyable sight. Kids love to participate in travel and enjoy keeping their own 'stuff' close by. Backpacks can get too heavy!
The Trunki is a valuable item to help make travel enjoyable for everyone!