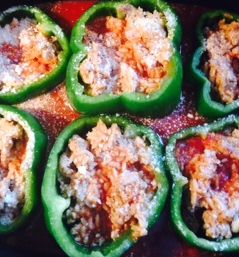 This time of year I crave a hearty meal, but not too heavy. I was inspired by a weight watchers recipe I found a long time ago. I've switched it up a bit and now have a true family favorite. This recipe is so delicious and satisfies our winter hunger, but it's not too heavy. The perfect combo!
Ingredients
1 cup uncooked rice with seasoning packet (we like Rice-A-Roni varieties in different flavors)

4 small sweet green peppers

1 pound uncooked ground turkey

1 1/2 cups canned tomato juice, or vegetable juice or (V8 works great, too)

2 Tbsp grated Parmesan cheese

1/2 tsp table salt

1/4 tsp black pepper
Preparation
Cook the rice according to the package directions. Set aside.

Slice off the top inch of each pepper and remove and discard the seeds; set the peppers aside.

Cook the turkey - season with salt and pepper.

Combine the cooked rice, cooked turkey, and 1⁄4 cup of the vegetable juice, the Parmesan, salt, and ground pepper in a medium bowl.

Spoon the rice mixture evenly into the peppers.

Place the peppers in a 3-quart saucepan; pour the remaining 1 1⁄4 cups vegetable juice around the peppers and set the pan over medium-high heat.

Bring the juice to a boil; reduce the heat, cover, and simmer until the peppers are tender, 20 – 25 minutes. Serve the peppers with the sauce.

Yields one pepper per serving.