Activity Overview
Experience sunrise and sunset like you have never seen before at The James Turrell Twilight Epiphany Skyspace. The structure is located at the Rice University Campus in Houston, Texas right beside the Shepherd School of Music. The place was designed with the right acoustics and sound engineering to hold concerts and musical performances. Aside from being an ideal venue for musical events, the structure is also fitted with LED light sequences projected unto the ceiling with the light sequence matching the colors of the sunrise and sunset.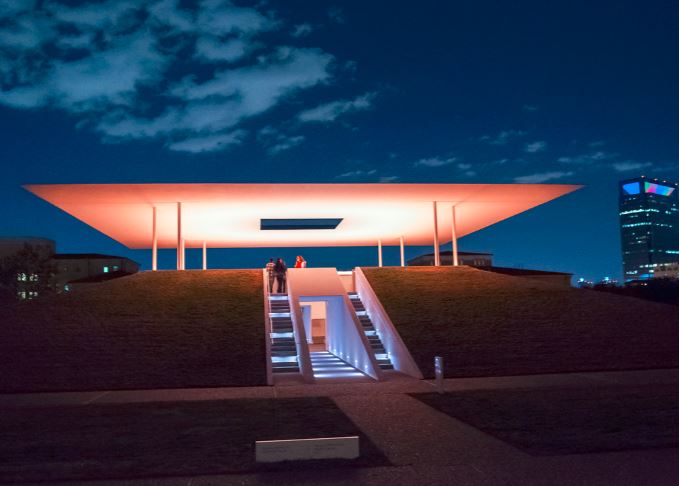 Photo Credit: JW Sherman
Things to Do
Check their schedule for sunset viewing reservations here. No reservations required for sunrise viewing. It is a recommended activity for those who want to enjoy a quiet, meditative time during the sunset. Shows are 40 minutes long and usually starts before the sunrise or sunset. Make sure to check the show start times before going.
Sit and take it all in. The show is designed as a form of art installation and is aimed to integrate with the quiet vibrance of sunrise and sunset. There are no glaring laser lights and loud music to go with the meditative experience.
When in the area, take the chance to go around Rice University campus grounds.
Twilight Epiphany Skyspace Insider Tips
The Twilight Epiphany Skyspace is open from 5AM to 10PM but if you want to see the LED light sequence at play, visit during the sunrise or sunset.
Arrive a few minutes before the sunset so you can settle and choose a good spot.