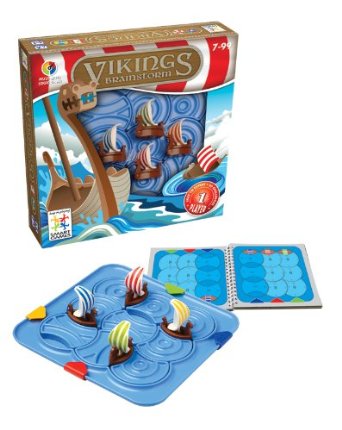 The Vikings Brainstorm Game is an awesome brain-strengthening game for puzzle-loving kids of all ages.
Your single player mission is to get trapped warrior Vikings lost at sea to safety.
Take a look at a YouTube Video of the game in action.
What's the game all about?
Kids are able to pick 1 out of 60 challenges and set up your board as indicated, you begin by rotating each of the nine puzzle pieces to move the ships around. You match up the appropriate ship with the corresponding landing on the edges.
There are four levels of difficulty, so you are able to be challenged to the max.
This game is really working on your visual perception, memory and logical skills. It's just a great game for your brain.
What's included in the game:
60 challenges with solutions
4 levels: Starter, Junior, Expert, Master
4 ships
4 arrows
9 puzzle pieces,
game board
Instructions