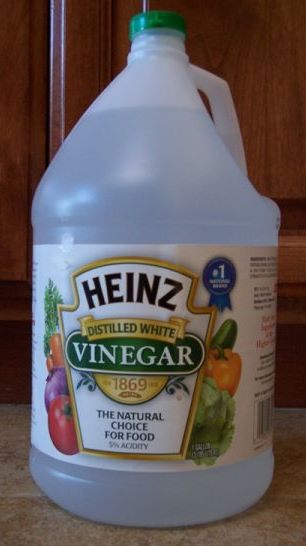 White distilled vinegar is an incredible eco-friendly household cleanser.
Did you know it's naturally antibacterial and biodegradable? It will kill most molds, bacteria, germs and viruses. The acidity in vinegar really is its secret weapon.
Cleaning with white distilled vinegar is a great alternative to harsh cleaning chemicals. The bonus is that a jug of it goes a LONG way, making it very economical.
Make your own homemade cleaning solution!
What you need
1.5 cups of distilled white vinegar
1 spray bottle
2 cups of water
8-10 drops of lavender essential oil
Fill a spray bottle with all the ingredients. Give it a shake to combine everything well.
This cleaning solution cleans a ton of things in your home!
Counter-tops
Refrigerator handles
Appliances
Windows
Garbage disposal
Disinfecting surfaces
Shines no wax floors
Deters insects
Cuts through grease
Polish wood
Rids pet odors
Straight vinegar is great for tougher clean ups you may have:
Great to rid your children of lice naturally.
Cleaning your faucets and shower heads.
Kills weeds.
Air freshener and odor remover.
Whiten clothes.
Prevents lint from sticking to clothes.
Tough jobs solved with white distilled vinegar.
Tough Jobs Solved with Vinegar
Sticker remover: Simply saturate a label with vinegar, let it sit for a half hour and it will peel right off.
Fluff up your blankets: Add 2.5 cups of white vinegar to your gentle wash cycle.
Shower Spray: Mix one part vinegar with 10 parts water in a spray bottle.
Stiff Jeans: Add 12 fluid ounces of vinegar to your wash and your jeans will be softer.
Gum removal: Warm up a cup of vinegar in the microwave, use a toothbrush to gently remove the gum from clothing.
Special Tips and Warnings
Wear rubber gloves when handling vinegar. The mild acid can possibly damage sensitive skin.
Don't clean marble with vinegar.
Keep white distilled vinegar out of the reach of pets and children.
Do not mix vinegar with bleach! It can create chlorine gas that will irritate your eyes, throat, nose and cause respiratory problems.