Worlds of Fun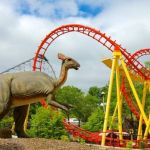 Activity Overview
Worlds of fun is an amusement park in Kansas city, Missouri, the 235-acre park was opened in 1973. The park has a theme based around a book, "Around the world in eighty days", the amusement park features many rides including thrilling roller coasters, shops, restaurants and much more. A best rated water park, Oceans of fun is located adjacent to the worlds of fun amusement park. Worlds of fun is an enchanting place for the children, there are many rides and attractions that will amuse the whole family.
Things to Do
Planet Snoopy is a special area for children with many rides and attractions. There are many fun low to mild thrill rides for kids in planet Snoopy. Kids will enjoy riding Charlie Brown's windup, Lucy's tugboat, Snoopy's Aeroplane, Snoopy's rocket express, Moon bounce, Camp bus, and play in peanut's playhouse.
There are many family rides to enjoy, ride a viking boat in the Viking voyager, ride the Skyliner, sea dragon, classic bumper cars, antique taxis, steam engine railroad, and carousal.
Oceans of fun is open in the summers, enjoy a kayak or canoe ride, or ride the Aruba tube, ride the pirate ship, take a dive in the super pool "coconut cove", Crocodile Isle for children, and other high thrill water rides.
Children will enjoy visiting "Dinosaur alive" exhibition that features 35 life-size dinosaurs, lush setting and educational content. The whole family will enjoy watching moving animatronic dinosaurs and shopping for dinosaur souvenirs and gifts from the Dinosaurs alive shop.
The amusement park features many special live shows and entertaining shows that the whole family can enjoy, kids can become members of the Joe Cool club and earn savings and gifts.
The amusement park offers dining and single meal deals, and many restaurants.
Cabins and cottages with lodging facilities are available.
Worlds of fun Insider Tips
The fast lane wrist band lets you enjoy the rides without any waiting lines.
Season passes come with many benefits.
Strollers and lockers can be rented.

Reviews
Sign Up - Family Fun Newsletter
Have fun with great ideas on things to do for travel, daytrips, nearby, or at home...