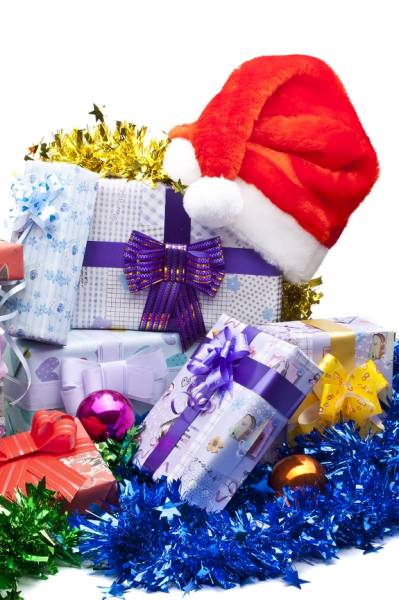 Children love to give gifts to the people they love. The gesture of a gift means almost more than the actual gift, and the way a gift if presented can be as much of a treasure as what's inside.
I love having my kids wrap their gifts to give to their grandparents and special family friends. It's really a very creative process and my girls really love it.
Here are a few ideas to get you started. All of these tips are inexpensive and easy to do.
Wrapping Ideas
Artwork. I know you have saved some artwork all year long, now is the perfect time to use it and the recipient will love it. I like to photocopy or even photograph the original work for the memory archives. If you have a large gift, simply tape a few pieces of art together to make a larger sheet to wrap.
Hand-Painted Wrapping Paper. A roll of craft paper can be used to design your own wrapping paper. Sponge painting is always fun to decorate paper with, use holiday shapes for this activity. Also, have your kids draw on the paper using markers, crayons and colored pencils. We have found a cute project for you to try on this fun website.
Decorated Bags. Plain lunch bag size bags are the perfect wrapping idea for smaller items. Have your child bling up the bag with glitter, paper cutouts, felt and stickers! Tie a candy cane to a ribbon as a sweet final touch!
Glitter Foam Sticker Wrapping Paper DIY
What you need
Roll of craft or solid colored wrapping paper
Foam glitter stickers
Marker
What to do
Wrap the gift with craft or solid colored wrapping paper.
Write recipient's and giver's name on the package with marker or crayons.
Stick foam stickers all over package.
Custom Gift Boxes. Use old containers that you have around the house. We love using empty oatmeal containers. These are so easy to cover with colored paper, contact paper or even multicolored duck-tape. Simply fill the box with colorful tissue paper inside as a filler. Put a bow on top of the container for a final touch!
Mailing Envelopes. This is really fun for the really little ones. A small child can decorate an envelope and then they can insert a small, flat gift, and close up the gift with the self-adhesive strip. This will enable your child to do everything alone, start to finish!