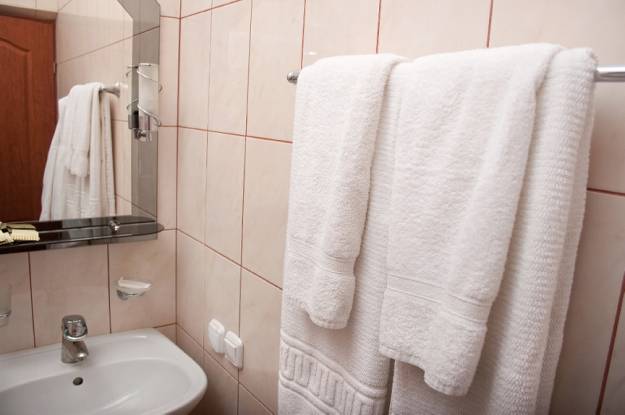 We know there are times when you need to clean your bathroom in jiffy. We have a quick and easy checklist for you to tackle this job.
Get your Supplies Together
Put all of your supplies into a bucket that is ready to go whenever you need it. This step is essential. I like to keep mine under my kitchen sink for a quick grab when I need it. If you have young children, always keep cleaning supplies in a safe, locked location.
Ideas for your bucket:
Spray bottle of cleaner.
Glass cleaner.
Toilet brush.
Scrubber on a handle.
Toilet cleaner.
Wet floor mop.
Rags/sponges & paper towels (Micro fleece & small towels work great!).
Clean bathroom rug, bath mat, and towels.
Preparing the Bathroom for Cleaning
Remove all soiled towels, bath mat, bath rugs from the room. Empty the trash and place the pail outside the bathroom.
Take a moment to clear off vanity and organize items.
Put toilet bowl cleaner along the rim of the toilet bowl.
Spray down the shower walls and shower floor.
Spray cleaner into the sink to let it sit.
Clean the Mirrors
Spray the mirror with glass cleaner and wipe down.
Clean Toilet
Use paper towels, or specific rags for this task. Never mix the rags you use to clean a toilet with rags you clean a shower or sink with.
Scrub the toilet bowl, wipe down the rim, seat, tank and outside the bowl.
Clean Shower
Start from the top and wipe down the walls.
Wipe down faucets and bottom of shower. Use the scrubber brush to hit those stubborn soap scum spots.
Sink and Vanity
Clean the sink and vanity.
Wash Floor
We like the Swiffer to clean our bathroom floors. Super easy and quick.
Finishing Touches
Replace all linens with fresh ones.
Replace the garbage pail.
Replace toilet paper if needed.
This should take you about 20 minutes to complete! Fast and easy. Share your bathroom cleaning tips with us in the comments section below.