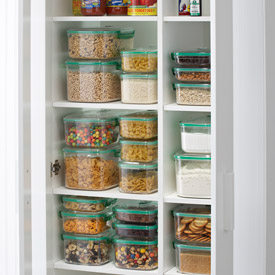 Do you often see a recipe you want to try and easily give up because you don't have the ingredients on hand?
Having a stocked baking pantry is a luxury, but it can also be a necessity if you plan to create tasty baked goods for your friends and family. The holidays are a great time to have much of this on hand for gift giving baked goods and general entertaining use.
Item Checklist
Salt:
Flour:
All Purpose Flour
Cake flour
Whole Wheat
Rice Cake
Almond
Buckwheat
Pastry
Oils & Shortenings:
Olive Oil
Canola Oil
Coconut Oil
Non-stick Spray
Peanut Oil
Shortening
Vegetable oil
Canola oil
Crisco (small container)
Sweeteners:
Granulated Sugar
Corn Syrup
Dark and Light Brown Sugar
Confectioner's Sugar
Cane
Maple Sugar
Alternate Sweeteners:
Honey
Maple Syrup
Agave
Molasses
Liquid Stevia
Powdered Stevia
Splenda
Chocolate and Chips:
Bittersweet Chocolate
Cocoa Powder (unsweetened)
Semi Sweet Chocolate Chips
White
Dark
Milk
Chocolate Chips
Butterscotch Chips
Toffee Bits
Coconut
Spices (whole and ground):
Cinnamon
Nutmeg
Cloves
Allspice
Cardamom
Ginger
Anise
Pepper
Candies & Sugary Delights:
Peppermints
Candy Cane
Marshmallows
Mini-Marshmallows
Caramel Squares
Marshmallow Fluff
Leavens and Stabilizers:
Baking Powder
Baking Soda
Yeast (active and dry)
Cream of Tartar
Cornstarch
Dried & Candied Fruit Mix-ins:
Raisins
Currants
Glace Cherries
Apricots
Dates
Cherries
Cranberries
Prunes
Candied Citrus Peel
Figs
Candied Ginger
Pecans
Walnuts
Almonds
Pecans
Peanuts
Pistachios
Cashews
Flavorings:
Real Vanilla Extract
Coffee
Lemon Juice
Almond Extract
Mint Extract
Peppermint Extract
Anise, Rum
Crackers & Crumbs:
Graham Cracker
Oreo Crumbs
Ritz Crackers
Pretzels
Seeds:
Sesame
Pumpkin
Poppy
Sunflower
Black Sesame
Chia
Flax
Oats:
Rolled Oats
Quick Oats
Flax
Cornmeal
Wheat Germ
Bran
Rice Crispies
Puffed Wheat
Shredded Wheat
Dairy:
Evaporated Milk
Sweetened Condensed Milk
Soy Milk
Powdered Milk
Powdered Buttermilk
Malted Milk Powder
Canned & Jarred Items:
Pumpkin Puree
Sour Cherries
Applesauce
Maraschino Cherries
Mincemeat
Chestnut Puree
Vinegars:
Balsamic
White
Red Wine
Apple Cider
Rice Wine
Spreads:
Peanut Butter
Almond Butter
Hazelnut Butter
Jams
Jellies
Marmalade
Nutella
Pans:
9 x 13 baking pan
(2) 9" Round Cake Pans
2" high sides 8 or 9" Square Baking Pan
Loaf Pan
Muffin/Cupcake Pan
(2) Rimmed Baking Sheets (cookie sheets)
Pie Pans
Specialty Items:
Edible Glitter
Gold Dust
Marzipan
Food Coloring
Sprinkles
Nonpareils
Don't forget a Cooking Pantry List to add to this one.