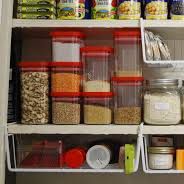 Do you look around your pantry shelves looking for items aimlessly? We have gathered our top items to have in your pantry.
This is a basic list, so build yours over time. It's worth the investment if you plan to host any dinner parties in the near future!
Dry Pastas – a few different shapes and sizes
Rice - brown, instant, white, wild, vermicelli, yellow Rice Packets
Grains – couscous, rice, barley, quinoa, oats, flax, cornmeal
Special Sauces – hot sauce, Tabasco, oyster sauce, rice wine, soy sauce, spaghetti, Worcestershire Sauce, white wine
Dried or Canned Beans - black, navy, pinto, kidney, lentils, red, white
Fruit - pineapple, crushed, raisins/Craisins, cling peaches
Canned seafood - tuna, salmon, clams, sardines, anchovies
Special Items – artichoke hearts, sun-dried tomatoes, olives, sliced water chestnuts
Salts – kosher, sea salt, pickling salt, rock salt
Oils – olive oil, canola oil, coconut oil, peanut oil, sesame oil
Vinegars – balsamic, white, red wine, apple cider, rice wine
Herbs and Spices:
Basil
Bay leaf
Beef Bouillon Granules
Cayenne pepper
Celery seed
Chicken Bouillon Granules
Chili Powder
Chili spice
Chives
Cider vinegar
Cilantro
Cinnamon
Cooking sherry
Cumin
Curry Powder
Dehydrated onion
Dill
Dry mustard
Dry red wine
Garlic powder
Garlic salt
Italian dressing mix

Ground Ginger
Hot sauce
Italian seasoning
Ketchup
Lemon pepper
Liquid smoke
Marjoram
Nutmeg
Onion powder
Onion Soup Mix
Oregano
Paprika
Parsley
Pepper
Poppy seed
Ranch Dressing mix
Red Wine Vinegar
Rice vinegar
Rosemary
Sesame Oil
Taco Seasoning Mix
Tarragon
Thyme
Broths and Soups - several cans chicken and beef broth, several cans coconut milk, cans of cream soups, enchilada sauce, red and green, green chilies, diced salsa
Vegetables (Canned) - cut corn, creamed corn, green beans, mushroom pieces, peas, roasted red peppers
Tomatoes - crushed, diced, sauce, and paste
Beverages - coffee, herbal tea, cocoa
We also have a great Baking Supply Pantry Checklist for you.