We harnessed the power of Google Consumer Surveys to ensure a true unbiased result and got over 1,000 responses to uncover this selection of 2016's top US beaches. Every single one of these beaches is a favorite and each one has something special to offer!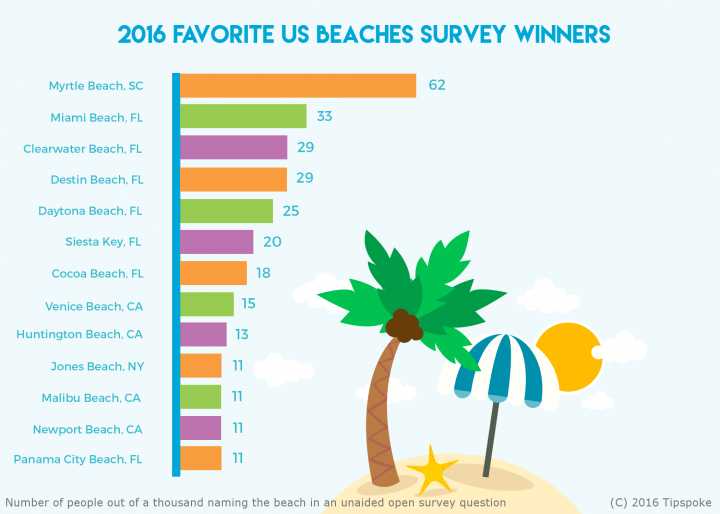 1. Myrtle Beach, SC
14 million visitors can't be wrong. Myrtle Beach is the country's top summer destination and it's all thanks to this side of South Carolina's pleasant subtropical climate.
The long stretch of beaches on the East Coast is called the Grand Strand and it is the go-to place of families and friends on vacation. Those who want to spend some time under the sun, watch the sceneries, and explore fun and hip establishments nearby the area will not run out of things to do at Myrtle Beach.
The best time to visit is from June to August when the temperature is just right for some fun in the ocean. What we love most about this beach town is that there is something for everyone. Those thirsty for adventure can go parasailing, surfing, or they could try out the newest addition to Myrtle Beach's long list of watersports: jetpacks and flyboarding. After action-packed activities, why not go on a boat cruise to catch the sunset or get your anglers and go fishing? If you get tired of walking by the beach, you can always rent a bike or a segway.
There's one sight that's impossible for you to miss when in Myrtle Beach: the SkyWheel, one of the country's tallest ferris wheels located by the beach. Hop on the ride around sunset time and watch the sun's fiery colors reflected on the ocean or go on a stroll at night and see the wheel lit up in bright and colorful lights.
Kayaking at Cherry Grove Inlet at North Myrtle is highly recommended too! Explore the outdoors and observe the rich diversity of wildlife in the area. If you're lucky, you might spot bald eagle and egrets hunting for food.
For accommodations, you can opt to book your stay at hotels facing the Grand Strand or for those who would like to see the quieter part of town, check out the areas of North and South Myrtle Beach.
2. Miami Beach, FL
The movies don't lie. Long stretches of white sand beach with families gathered together sipping their favorite drinks, friends swimming in the turquoise waters of the Atlantic Ocean, and sun worshippers stretched out on the sand are what you'll see in Miami Beach in the Sunshine State of Florida. You can choose from white sand party hotspots to hotel resorts ideal for families.
South Beach, the most popular stretch of beach here, is usually packed with locals and tourists alike. This area is always bustling with activity - from watersports in the morning to partying at night. If you wish to go on the off-the-beaten-path, proceed down south where you'll see laidback yet equally beautiful and calm waters perfect for families with children.
There's another way to see Miami Beach though. Get your diving or snorkeling gear ready and get into the water to see the third largest reef barrier in the world, the Florida Straights reef. If you want to get away from the busy shore, rent a kayak and watch the sunset as you paddle.
There are a couple of dog-friendly beaches here too so you can bring your furry friend for a game of fetch by the shore.
3. Clearwater Beach, FL (tied with Destin Beach)
Google the best beaches in the country and you'll find Clearwater Beach in every list. True to its name (and the city's), Clearwater Beach in Florida offers a tropical holiday with crystal clear waters of the Gulf of Mexico, temperate climate, and soft, powdery, white sand beaches stretching for more than a couple of miles. During the day, families and friends spend their time lounging by the beach and getting some sun or playfully dipping in warm seawaters. At night, the beach becomes even more alive with plenty of options for dining and good music.
Walk or jog barefoot on the beach, play a game of beach volleyball, or visit Pier 60 – a huge fishing pier where both tourists and locals alike catch the sunset. This daily activity has now become a "Sunsets at Pier 60" tradition. Experience it for yourself when you visit the pier. If you want to try your hand at fishing, bring your own anglers or rent gear from various establishments at the pier. Try parasailing too, join a sunset cruise, or be pirates for a day at a pirate ship cruise.
Clearwater Beach can be packed with tourists depending on the time of the year, but the beach is so lovely that it makes up for being crowded. You'll have to drive here early to get a good spot for parking though.
3. Destin Beach, FL (tied with Clearwater Beach)
What makes a good family beach? It should have shallow and tranquil waters where kids can safely play plus soft, white sand would be an added bonus. The beach has to have complete amenities too for utmost convenience. That's exactly what Destin Beach offers.
Aside from the beach itself being family-friendly, there are plenty of activities that you can do in nearby areas; you can easily spend a couple of days here without running out of things to do. Rent a kayak, paddleboard, or a bogie board for the kids to try out. Get into the water and drive a speedboat or a jetski or go parasailing. If you want to see the shore from up above, book a helicopter tour and see how the coast looks like from bird's eye view. How about going on a zipline and seeing the coast as you zip by? You can do that at Destin Beach too!
You might also be interested in taking sand sculpting lessons with your family or friends so the next time you're on the beach, you can create amazing sand sculptures. Sunset cruises are popular here too and depending on the season, you might just spot playful dolphins swimming along with the boats.
5. Daytona Beach, FL
Daytona Beach is a name known for motorsports and newcomers might wonder why. The sand at Daytona is hard-packed that even motorized vehicles can safely run on the beach. This racing culture has infused a lively atmosphere to this beach city yet the city has still kept its authentic, original American beach vibe.
Bring a blanket, then drive and park on the beach (yep, on the beach and not at some parking lot), and spend the day with your family or friends basking under the warm glow of the sun. Daytona Beach literally got you covered too as there are plenty of establishments renting out beach chairs and umbrellas. Walk on the beach and visit Boardwalk and Pier where you'll find indoor rides, arcade games, a rollercoaster, and a go-kart racetrack. Beachfront parks dot the 23-mile long beach too. Ten parks offer amenities ranging from picnic tables, fishing areas, splash parks, and playground for kids.
Here's one thing that you should not miss if you visit from May to October (and also if you're really lucky): you might spot sea turtles crawling to the shore to lay eggs at night. After two months, these eggs will hatch and you'll see hundreds of hatchlings swimming back to sea. It's a heartwarming sight to witness.
6. Siesta Key, FL
Siesta Key in Sarasota, Florida is exactly what tropical island dreams are made of – relaxing with white sand between your toes, the wind in your hair, and the sun on your eyes as you gaze at the sparkling waters of the Gulf of Mexico. The island offers activities ranging from laidback strolls by the beach, kite flying, and stretching out on the sand to thrilling ones such as parasailing and jet skiing. If you're here on a Sunday, catch the Siesta Key Drum Circle play and dance to the beat of the drums an hour before the sunset.
7. Cocoa Beach, FL
Aside from being known for its location on the Space Coast of the country, Cocoa Beach is a top destination for those who are looking for a quieter beach. Visitors love how there are only a few establishments nearby and the place still stays true to its small town beach laidback vibe.
Cocoa Beach is where you can relax and get a tan and not be disturbed by loud, blaring music and a rowdy crowd. Take a dip, get your board and surf, or go fishing. Don't forget to drop by Ron Jon store here because it's currently the largest surfing shop in the world!
8. Venice Beach, CA
From watching talented street performers, enjoying free freak shows at the Boardwalk, and working out on the beach, you're in for a different kind of experience at Venice Beach.
Muscle Beach is a must-visit! If you don't feel like working out on the beach, you can always drop by and watch weight lifters showcasing their strengths. Surfing is also a popular activity but bring a wetsuit as it could get chilly here. Walk along the coastline and you'll find basketball courts and tennis courts as well as skateboard parks and gymnastic clinics. Hunt through numerous souvenir shops for a t-shirt or a keychain for a bargain price.
9. Huntington Beach, CA
There is no nickname more apt than "Surf City" for Huntington Beach. While it's known for surfing, there are still a lot of things that families and friends can do here. Strolling by the 9.5-mile beach and visiting the pier are on the top of the list. Volleyball nets are available for use so bring a ball and play a round.
One of the things that visitors love are the fire pits! Not a lot of beaches allow bonfires so when you get to Huntington, make sure you grab a spot for a fire pit as soon as you can. Stay warm by the bonfire and watch the sunset with your family.
10. Jones Beach, NY (tie)
This 6.5-mile beach facing the Atlantic Ocean is the most famous summer go-to place for a lot of New Yorkers. Jones Beach is reachable by train, car, or bus and is located about 40 minutes away from the city. While it may not compare to Miami, Jones Beach is a gem of its own. It's one of the cleanest and well-kept beaches in this area.
You can spend the day lounging by the beach or you can engage in activities such as playing shuffleboard, basketball, tennis, or volleyball. There's golf and mini golf too! If it gets too cold for a swim in the sea, you could always use the outdoor public pool.
10. Malibu Beach, CA (tie)
One look at Malibu Beach and you'll be reminded of Hollywood glamour seen in films, TV series, and music videos.
Malibu has plenty of beaches to choose from and if you're a serious beach bum, you can spend your entire stay exploring each one. There are beaches fronting huge Malibu houses (Amarillo, Broad), beaches popular in surfing circles (Surfrider), to wide ones that almost feel remote and secluded (Zuma, Escondido). So whether your family or friends are into surfing, boogie boarding, scuba diving, or camping in an RV on the beach, know that the best Malibu beach that suits you is out there.
10. Newport Beach, CA (tie)
After spending your day at Disneyland, would you like to see the sunset by the beach? Visit Newport Beach in Orange County, one of the closest to the theme park. It's one of the beaches that make up the 10-mile coastline of Newport Beach, the city.
Choose to sit back, relax, and see the sunset, watch seagulls and pelicans hanging out by the beach, go on a whale watching tour, or surf, skate, or bike. The Newport Balboa Bike Trail will take you along the shore passing right in front of huge beach houses. Don't miss the chance to go on a stroll on the Balboa pier too.
10. Panama City Beach, Florida (tie)
With a slogan that says "The World's Most Beautiful Beaches", you can expect exactly that and more at Panama City Beach. 27-mile long stretches of wide, white sand beaches offer the best sort of vacation for both families and friends on their spring break vacation.
Aside from surfing, skimboarding, and parasailing, you may also get on a helicopter for a tour of the coastline, rent a boat and go on a private deep sea fishing trip, or swim with dolphins at Shell Island. With wrecks and healthy marine life thriving on the Gulf's waters surrounding Panama Beach, discovery diving and snorkeling has also become a preferred activity of many visitors
Top 5 Runner Ups
La Jolla, CA
The 7-mile coastline of La Jolla in San Diego, CA is home to sandy coves perfect for swimming with kids, seals lying under the sun, and big swells on reef breaks ideal for surfers. Parking is free on most beaches though you might need to be patient on finding a spot.
Pismo Beach, CA
Sunsets, long stretch of white sand beach, and waves gently crashing on the shore – this is exactly how a Classic California beach looks like. Put Pismo Beach as one of your stops when driving between SF and LA. Go strolling by the beach, surfing, body boarding, or try your hand at fishing at the pier.
Long Beach, CA
Long Beach is what you'll get when classy, urban atmosphere meets with peaceful beach vibe. There's 5.5 miles of beach for families and friends (and furry pets) to enjoy. Rent a jet ski or a kayak or bike along the waterfront. Explore world-class establishments (including restaurants, museums, hotels, and shops) as well as amenities in the area.
Ocean City, NJ
Ocean City stays true to its slogan as "America's Greatest Family Resort". With 8 miles of quiet, guarded, and alcohol-free beaches, families can spend quality time with each other without being disturbed by a loud crowd. Wander on the Jersey Shore Boardwalk and you'll find more wholesome recreational activities such as arts and crafts and storytelling sessions, that are perfect to keep your kids busy.
Outer Banks, NC
North Carolina is home to the Outer Banks (OBX), a 130-mile coastline consist of group of barrier islands facing the Atlantic Ocean. The beaches appeal to different types of visitors. Find plenty of dining and shopping options by the beach at the Northern Beaches, historical tidbits at Roanoke, and serene and secluded stay at Hatteras.
Virginia Beach, VA
Virginia Beach has something in store for everyone. A visit could mean any or all of these three things: spending your days at a lively resort at Virginia Beach Oceanfront area, living the island life at secluded Sandbridge Beach, and enjoying quiet time and watching the sunset with the family at Chesapeake Bay.