2016 Favorite Beach Winner
Myrtle Beach won our 2016 Best Beaches in the US survey by a big margin. As we dug into this, it was clear that Myrtle won big because of all of the great activities in and around the beach.
Activity Overview
Myrtle Beach features a 60-mile long stretch of white sand beach facing the Atlantic Ocean, attracting millions of tourists annually.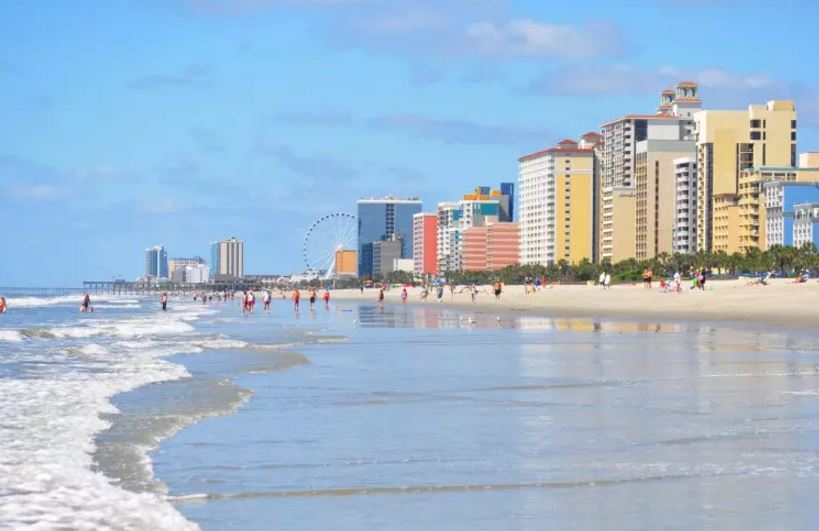 This family-friendly destination offers much more than a beach experience. In addition to relaxing on the beach and engaging in water activities, visitors can explore the area's growing culinary scene, take on the fun amusement parks, and peruse the shops along the boardwalk.
A ride to the East Coast's only 200-foot SkyWheel is a must if you don't mind heights. Thrill seekers can take on the challenge of the roller coasters in area amusement parks, and of course, you most everyone can test their skills at one of the over 50 different mini-golf courses.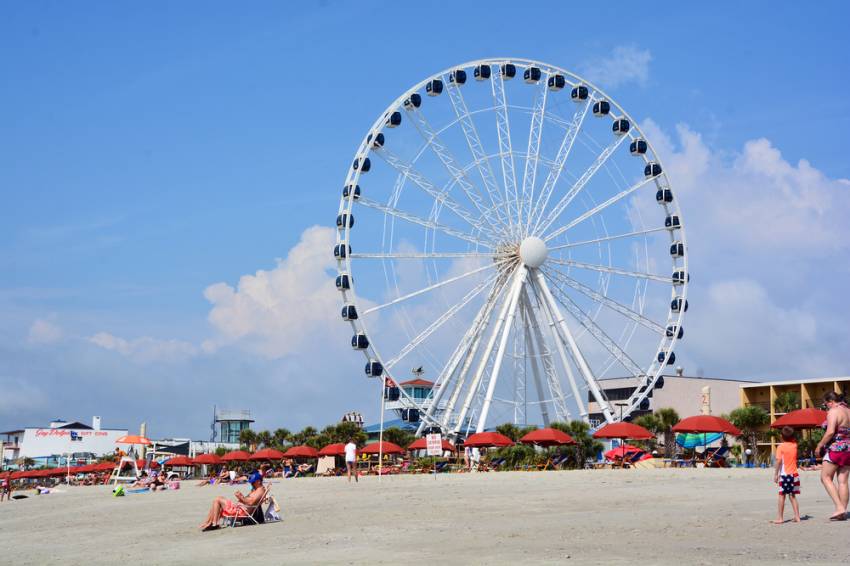 Things to Do
Find a spot on the Grand Strand and rent an umbrella. Sit back, sunbathe, and enjoy the view of the Atlantic Ocean.
Go swimming and surfing. Kids especially love it here during low tide when waves are just the right size for them. If you are surfing or boogie boarding, make sure you strap on your board leash.
Stroll on the beach and find shark teeth and shells during low tide. Bring your gear too and go fishing.
Visit the boardwalk and explore restaurants, water parks, amusement parks, and shops.
One of the biggest attractions here is the SkyWheel, a ferris wheel facing the shore. Hop on for a ride or watch it lit up with colorful lights at night.
Golf Courses! Lest we forget, that visitors travel far and wide to golf on over 75 amazing courses in the Myrtle Beach area.
Not a seasoned golfer? No worries. Play a round of mini-golf at one of the nearly 50 mini-golf courses (some are even indoors for a refreshing air conditioned outing).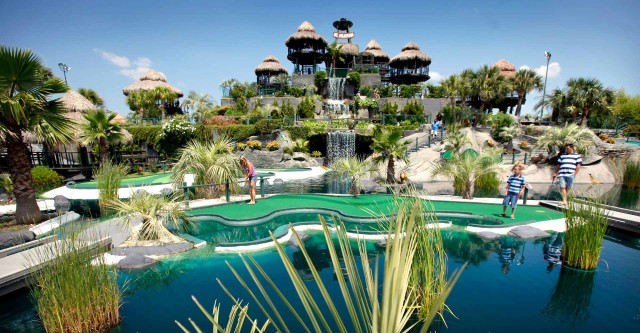 Hop aboard a Pirate Adventure Tour - children and families will be entertained on the high seas while fully participating in a swashbuckling adventure!
Get lots of climbing action at Radical Ropes - an exhilarating aerial adventure park with extreme zip lines, KidZipz and more. Or, you can try out Soar & Explore - which is an over-the-water aerial adventure.
Ripley's hosts five great attractions in the Myrtle Beach area including the highly recommended Ripley's Aquarium, Ripley's Haunted Adventure, Ripley's Believe It or Not, Ripley's 4-D Moving Theater and Ripley's Super Fun Zone.
As you can see, the wide variety of attractions and activities ensure that there really is something for everyone to do, no matter the pace of your vacation.
Myrtle Beach Insider Tips
For parking, metered street parking is available but if you want to keep your car off the busy streets, park at the Pavilion Parking Garage near the SkyWheel.
If you want to avoid the crowds, plan your visit in fall.
Read and obey beach safety flags. Yellow means a lifeguard is on duty, blue means aquatic danger, and red means no swimming allowed.
Lifeguards are in the beach area but it's still best to watch little kids closely.