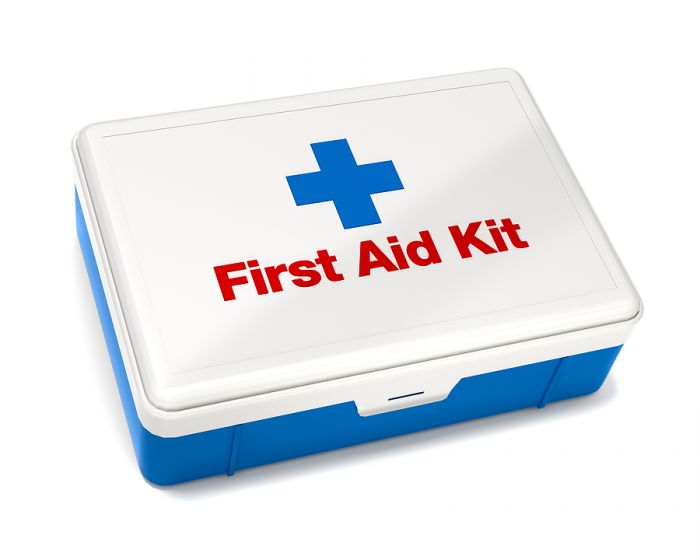 "Help, I'm hurt!"
Have you ever heard those dreaded words in your home? And if so, do you have a first aid kit ready for an emergency at home? If not, it's never too late to start one.
Our First Aid Kit is 12 years old – it's an absolute necessity in our busy home. We have a large kit attached to the wall in the entryway of our finished basement. It's not attractive, but it's been an essential item in our home. In an emergency, you don't want to search all over the house for supplies.
Family, friends and sitters have all used it, and have commented that they like the easy location of the supplies. The worst thing to do is to stumble over yourself finding supplies in a hurry. We try to fully restock the box about every 6 months with the minor supplies we use weekly, like Band-Aids and antiseptic wipes.
Be sure to check labels to avoid outdated materials and ointments, and make sure everything is sterile.
Home First Aid Kit List
Adhesive Band-Aids (in several sizes).
Sterile gauze pads.
Rolls of stretchable gauze to hold dressings in place.
Adhesive tape – large and small.
Cotton balls.
Antiseptic solution and wipes.
Antibiotic ointment.
Pain relievers.
Ipecac syrup.
Liquid-activated charcoal.
Petroleum jelly.
Eye drops.
Blunt-tipped scissors (for bandage cutting).
Tweezers.
Thermometer.
Hydrocortisone cream.
Scar gel.
Calamine lotion.
Instant chemical cold packs.
Poison ivy soap and ointments.
Sting ointment.
First Aid Book.
Fully Stocked First Aid Options
Purchasing a fully stocked First Aid center is also a great option. Sometimes these kits have more than you will ever need, but it's stocked full of items you may need. The quanties of items vary. So try and supplement the kits with extra items you may need more of. Some we love:
Deluxe First Aid Box. It's been excellent and a household necessity.
Mini First Aid Boxes are small and great for backpacks and pocketbooks. We use ours often!
Trusty Emergency Sheet Printable
We highly recommend posting an Emergency Information Sheet nearby. Take a look at our post about the handy Trusty Emergency Information Sheet for your home.