Birthday Parties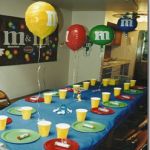 Save to My List
When my Dad turned 70 we wanted to have a special celebration. He didn't want anything elaborate for this milestone birthday so we decided to have an intimate family party. My Dad loves M&M's so


Save to My List
This year for my daughter's 7th birthday-I can't believe that I am saying it-the last birthday tip I wrote was for her 4th! I digress, we are doing our own version of what is now a popular birthday venue.&nbsp


Save to My List
I'm gathering some ideas for my daughter's 9th birthday party! I love celebrating birthdays and always do something new and fresh to surprise her. I found the perfect fun idea online today!


Save to My List
Disney's new movie Tangled was released in Nov 2010. It is modern twist on the traditional Rapunzel fairytale that we all grew up with – one with a modern twist With all of Rapunzel's


Save to My List
You've sent the invitations, prepared the food and planned the activities and now your family is arriving. How do you make everyone feel welcome, relaxed and ready to participate at your family reunion? Ice


Save to My List
Here's an easy way to make a birthday cake more festive as well as to eliminate dripping candlewax on the cake. Use Lifesaver Candies as the candle holders! You can either use the hard candy version


Save to My List
Getting girls together for a night of fun is a great way for them to bond. If you are needing help with planning, this lens is a great place to start! Here you will find Sleepover Party ideas, tips on putting it


Save to My List
Everyone wants to be an Astronaut! You may not be able to afford to take a ship to space but you can create a fun party theme for girls and boys! Go on your own Space adventure with these fun themed products. This


Save to My List
These are great times for saving money on kids birthday party decorations - ideas include creative tablecloths, make your own placemats, pinatas, using less expensive solid partywear where possible, using toys


Save to My List
If you are looking for a special party theme for 2-5 year olds, then you have come to the right place. These themes can be used to teach children at preschool or just to have a fun birthday! This lens showcases

Sign Up - Family Fun Newsletter
Have fun with great ideas on things to do for travel, daytrips, nearby, or at home...